FRIDAY AND SATURDAY, NOVEMBER 11-12, 2011


Co-Sponsored by the Schools of Architecture of the University of Notre Dame and the University of Miami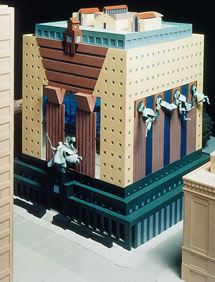 Reconsidering Postmodernism will gather leading scholars, practitioners, and critics for a rigorous round of lectures, film tributes, and panel discussions. The fully scheduled two-day conference coincides with the 30th anniversary of Tom Wolfe's seminal publication
From Bauhaus to Our House
and the themes of the conference—historic significance, impact on design education and public taste, lessons learned and lessons rejected, theoretical underpinnings, and contemporary appraisal—all attempt to illuminate postmodernism's overall cultural impact.
The UNBELIEVABLE list of special guests to include:
Paul Gunther
Gary Brewer
Richard John
Robert Adam
Michelangelo Sabatino
Charles Warren
Tom Beeby
Michael Lykoudis
Lizz Plater-Zyberk
Jaquelin Robertson
Martino Stierli
Suzanne Stephens
John Morris Dixon
Paul Goldberger
Mildred Schmertz
Michael Sorkin
Tom Wolfe
Barry Bergdoll
Michael Graves
Robert A.M. Stern
Stanley Tigerman
Paul Gunther
Peter Pennoyer
Reinhold Martin
Ellen Dunham-Jones
Judy DiMaio
Michael Dennis
Dan Solomon
Gwendolyn Wright
Emmanuel Petit
Andres Duany
Witold Rybczynski
Thomas Gordon Smith
Sam Jacob
Léon Krier
Robert Campbell
Charles Jencks
Demetri Porphyrios
Mark Wigley
You have to be there!
The conference takes place at the

CUNY

Graduate Center, 365 Fifth Avenue at 34th Street. Space is limited and reservations are required. Register online or call David Ludwig at (212) 730-9646, ext. 104.